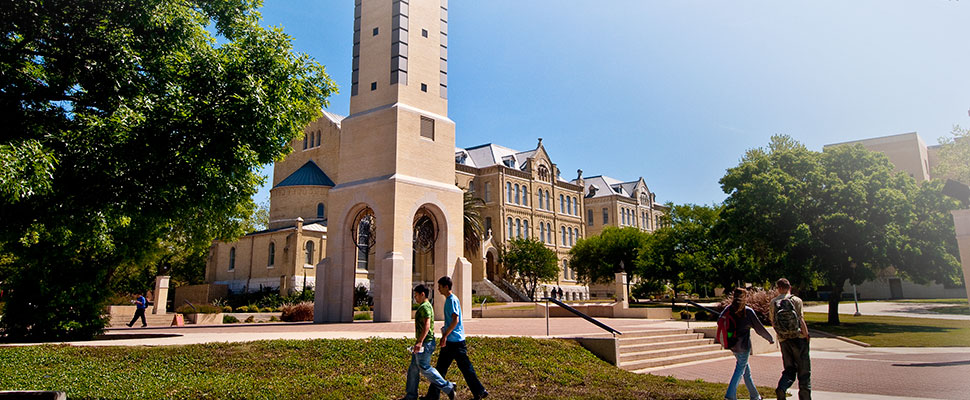 Address
The address of St. Mary's University's main entrance is:
One Camino Santa Maria
San Antonio, Texas 78228
Our interactive map provides visual directions and a printable PDF campus map.
Visiting San Antonio
St. Mary's University is located on a city bus line with a stop that connects you to the San Antonio Riverwalk downtown or to one of the city's many shopping malls. For a longer getaway, St. Mary's is one hour south of Austin's music scene and just a few hours from Mexico, the Gulf Coast beaches and the beautiful Texas Hill Country. Visit the San Antonio visitor website for information about the San Antonio area.
Area Accommodations
Take advantage of the discounted hotel rates for St. Mary's University alumni and friends.
Fairfield Inn & Suites by Marriott Alamo Plaza / Convention Center
422 Bonham Street
San Antonio, Texas 78205
Complimentary breakfast included
Room Rates – $109 per night (discount expires: December 30, 2020)
Visit the Fairfield Inn & Suites website and enter code 5M6 or call 210-212-6262 and mention St. Mary's University to receive the discounted rate.
Continue to follow on-screen instructions to complete your booking
La Quinta Inn & Suites – San Antonio Conference/Medical Center
4431 Horizon Hill Blvd
San Antonio, Texas 78229
Breakfast Included
Single/Double Rooms – $79 per night
King Executive Room – $89 per night
Two Room King Suite – $99 per night
Visit the La Quinta website
Enter the following Promo Code: STMARYUN
Continue to follow on-screen instructions to complete your booking
The Menger Hotel
204 Alamo Plaza
San Antonio, Texas 78205
Rate: $126/night (discount expires: May 31, 2019)
Visit The Menger Hotel website
Enter the following Corporate Code: STMARU
Continue to follow on-screen instructions to complete your booking
Springhill Suites by Marriott Alamo Plaza / Convention Center
411 Bonham Street
San Antonio, Texas 78205
Complimentary breakfast included
Room Rates – $119 per night (discount expires: December 30, 2020)
Visit the Springhill Suites website and enter code 5M6 or call 210-212-2121 and mention St. Mary's University to receive the discounted rate.
Continue to follow on-screen instructions to complete your booking