Date: February 26, 2018
-
April 30, 2018
Time: 12:00 am
to
12:00 am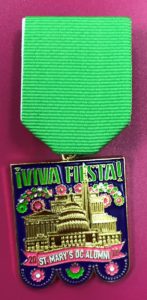 The Washington, D.C. Alumni Chapter is excited to participate in Fiesta 2018!
Medals will be sold until April 30, 2018 and can be shipped to anywhere in the U.S. Medals are also available for purchase in the Office of Alumni Relations located in St. Louis Hall Administration Building – Room 218.
Price: $10 each, plus $4 shipping fee per order
All proceeds will help support chapter initiatives in the D.C. metro area.
VIVA, FIESTA!
Oops! We could not locate your form.