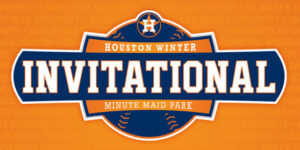 The Houston Alumni Chapter of St. Mary's University invites you to cheer on the Rattler Men's Baseball Team during the Houston Winter Invitational on Saturday, Feb. 12 at 1:30 p.m. at Minute Maid Park.
Fans may enter the ballpark through South Home Plate Entrance along Texas Avenue. No re-rentry.
REGISTRATION IS NOW CLOSED. The Houston Alumni Chapter will provide FREE tickets for the first 16 people to register. Children two and under are FREE with an adult ticket.
Questions? Contact Jairo Garcia (B.S. '08), Chapter President, at stmuhoustonalumnichapter@gmail.com.