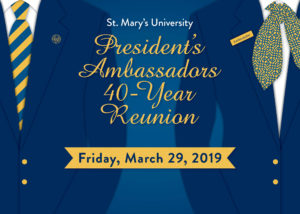 St. Mary's University invites you to celebrate the 40th Anniversary of the founding of the President's Ambassadors (PA) Program at a first-ever ambassadors' reunion to be held in conjunction with Homecoming Oyster Bake (Baby Bake), and other alumni weekend activities. The University is grateful to you for your years of service as an Ambassador and we want to express our appreciation by honoring you during this special anniversary.
Location: The Pub at St. Mary's University and Alkek Plaza (outdoor area)
Please find our page on Facebook and share your photos, memories and experiences from your days as a PA. #PADefiningMoment
Reconnect, reminisce and enjoy the following Homecoming weekend events:
Wednesday, March 27
Distinguished Alumni Dinner
6 to 9 p.m.
Friday, March 29
Ring Ceremony and Reception
6:30 to 8 p.m.
President's Ambassadors 40-Year Reunion
7 to 9 p.m.
This is a family friendly event.
Saturday, March 30
Heritage Club Reunion
2 to 4 p.m.
Homecoming Mass
4:30 p.m.
Homecoming Oyster Bake
6 p.m.
Discounted Hotel Information
Omni San Antonio Hotel at the Colonnade
9821 Colonnade Boulevard
San Antonio, Texas 78230
Single and double rooms: $129/night
Reservations must be made no later than March 11, 2019
Reserve a room
The Menger Hotel
204 Alamo Plaza
San Antonio, Texas 78205
Rate: $126/night
To make a reservation, visit The Menger Hotel website and enter the following corporate code: STMARU. Then, follow the on-screen instructions to complete your booking.
Questions? Contact Letty Ramirez at lramirez5@stmarytx.edu or 210-436-3146.